Welcome to Lobos Den for all things EDGE

Contact Info: firstgen @ gmail.com
Project name:
M.E.G.A (Make EDGE Get Active) aka TYTL(Ten Years Too Late)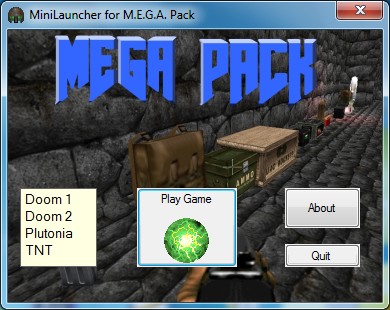 What is it?

It's a pack designed to run on EDGE 1.35 which includes:
High Resolution Textures and Flats for Doom, Doom2, Plutonia and TNT
Replacement of most sprites with MD2 models (everything except monsters and HUD weapons)
EDGE 1.35 with Timidity stuff set up for music
Pretty launcher program to do all the hard work
Shout out to Liberation for beta testing it.




Download:

Currently weighing in at 280Mb, so have to host it externally:
grab it from Mediafire
grab it from DoomShack


Big Thank You to DoomKid from DoomShack.org for hosting it.





M.E.G.A. pack credits:

To the following resource creators. What I did was package it all together and tweak in a way that EDGE could swallow.
Textures/Flats from AltDHTPv1.3 (https://zandronum.com/forum/viewtopic.php?t=6132)
Skyboxes from Sitters site (http://www.md2.sitters-electronics.nl/skyboxen.htm)
MD2 models from an old version of Vavoom (https://www.vavoomengine.com/downloads/)